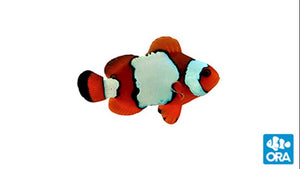 What happens when you cross an ORA Ocellaris with an ORA Lightning Maroon? A visually stunning NEW variety of clownfish you won't find ANYWHERE ELSE! 
The ORA LuxLightning Maroon boasts all of the stunning features of its unique parentage and will only get better patterns as it matures. Don't be fooled by its snowflake patterning as a juvenile, this unique hybrid will soon showcase both icey buckshots and lacing.
-ORA
Pick up is at our Knoxville location by appointment.