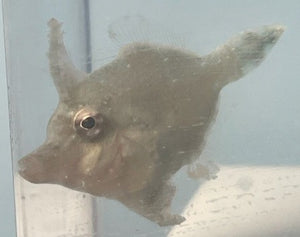 Aiptasia Eating Filefish (Acreichthys tomentosus) Also known as the Matted Filefish are an incredibly helpful species of filefish. They are called the Aiptasia Eating Filefish because of their ability to eat nuisance anemones like Aiptasia, majano anemones, and some types of hydroids. They have the ability to change coloration and blend in with their surroundings rapidly, making an amazing addition to the saltwater aquarium. It is a shy fish, and rarely aggressive towards other fish except those of its own genus. It is best suited for aquariums 30 gallons or larger that does not contain small invertebrates.
We currently feed ours a diet of Sustainable Aquatics Hatchery Pellets and a verity of frozen foods.
Pickup at Knoxville Location. Call for an appointment.