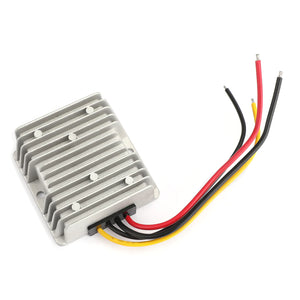 Step Up Boost Converter to boost your battery voltage from 12 volts to 36 volts for use with EcoTech pumps running at 100% of set controller speed when power is out. Includes wiring and lever nuts to connect battery input and output to your battery and ReefBoxx.
If you are running 36 volt pumps (Ecotech) you will need this booster if only using one battery and wish to run at 100% set speed when the power is off.
* When running an Ecotech pump that is 36 volts and wish to run it in backup mode when the power is out you will need our 24 volt version.
We recommend using a Boost converter rather than purchasing two batteries as it is much cheaper than a 2nd battery and when using two batteries in parallel with a boost converter you double your ah rating.
If you have questions please don't hesitate to contact me.