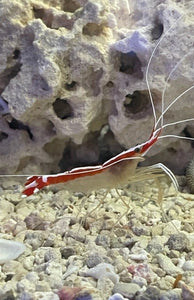 The Scarlet Skunk Cleaner Shrimp (Lysmata amboinensis) acts like the medic of any saltwater aquarium. Just call him "DR Shrimp" In fact, this active cleaner will set up shop on live rock or coral outcroppings and wait for fish to come and be cleaned of parasites or dead tissue. Many fish value its services so highly that they even allow the Scarlet Skunk Cleaner Shrimp to clean inside of their mouths without harming the shrimp. No matter how your fish use the Scarlet Skunk Cleaner Shrimp's services, it is easy to see why this peaceful creature is so popular amongst home aquarists We are currently feeding Max Algae pellets as well as Prime Reef Flakes by hand. Size is about 2"
Our Turbo Snails have gone through our invert Qt process. You can read more about that on our QT page.

Pick up is at our Knoxville location by appointment.