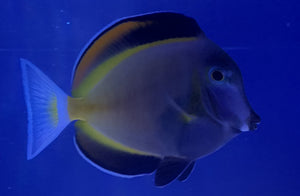 We have a beautiful Powder Brown Tang (Acanthurus japonicus) available that has been 100% Fully Quarantined through our QT process. Its is about 3.5" long and is just a beauty. The Powder Brown Tang will thrive in a large aquarium.

The Powder Brown Tang requires seaweed or nori sheets to thrive. It will eat meaty foods as well but it is highly recommend to offer seaweed, nori, or a Herbivore specific food that contains these products on a regular basis.
Pick up is at our Knoxville location by appointment.